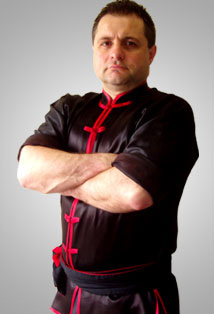 Jacksonville Branch
Sifu Sergio Silverio
Fifth Generation Disciple of
Wong Fei Hung
Sergio Silverio began his study of the martial arts at the age of 11, enrolling in a neighborhood Karate program run by the local Police Department. He began a new direction at the age of 17 practicing Western Boxing and Wrestling. During that first year of competition, he emerged victorious over a wrestler rated third in the region. At the age of 18 he entered the United States Army as a paratrooper with the 82nd Airborne Infantry Unit. While in the military he studied the art of Tae Kwon Do and was awarded a First Degree Black Belt.
After he was honorably discharged from the military, he began a search for an art that was best suited for him. Silverio tried several different martial arts such as Okinawan Karate, Wah Lum Kung Fu, Wing Chun Kung Fu, Aikido, Kung Fu Wu Su (Alan Lee System), and Philippine Stick and Knife Fighting. During the early 90s, he came across Sifu Pedro Yee and began studies as a private student - which he continues to do today. He is also a Yap Moon disciple in his chosen art of Hung Ga Kung Fu.
Throughout his years of study he assisted Sifu Pedro Yee at his Clifton, New Jersey branch school gaining valuable teaching experience and learning the extreme street practicality of this southern style of kung fu. He is now also involved in active study of Judo and Brazilian Ju-Jitsu. Sergio Silverio served as a Police Officer in Tampa, Florida and an Essex County (NJ) Corrections Officer, as well as a Firearms Instructor. He operates the Jacksonville, Florida Branch of Yee's Hung Ga International Kung Fu Association. This branch only accepts a limited number of students who are serious about their training.
Group classes, Private and Semi-Private lessons are available. Tai Chi classes available Monday evenings.
Phone: (201) 893-9110