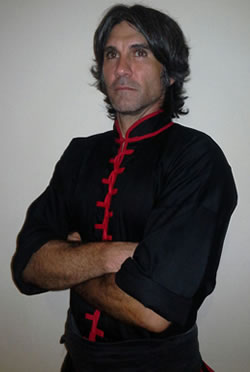 Central American Branch
San Salvador, El Salvador
Sifu Jose Salandra
Fifth Generation Disciple of
Wong Fei Hung
Sifu Jose Salandra began his martial arts studies in 1978 at the age of 6, studying the art of Tae Kwon Do in his native El Salvador until the age of 13 at "Escuela Choi" in the city of San Salvador. At the age of 16 he made his first contact with Kung Fu under Sifu David Beltran at Escuela Flor de Loto under the lineage of Lam Sai Wing. There he learned Hung Ga and some Choy Li Fut during the 10 years he attended.
Between the years 2008 and 2011 Sifu Salandra decided to broaden his knowledge with two extended journeys to China to improve his skills in Hung Ga and also broaden his knowledge by experiencing Shaolin Kung fu at the famed Songsan Shaolin Temple's Xiao Long Kung Fu Training Center, Dengfeng, Henan, China. Here he was introduced to the Shaolin Temple system as taught at the center. Jose also attended various training sessions in the Hung Ga Style in Houston, TX and Naples, Italy.
In 2010 Jose had made a firm decision to dedicate himself to the Hung Ga Style of Kung Fu and on a trip to New Jersey, USA, later that year, he sought out and met his Sifu, Pedro Cepero Yee, President of Yee's Hung Ga International Kung Fu Association as well as the Adopted son of Grandmaster Frank Yee. After explaining his goals and asking to be accepted as a student of the school, Sifu, Pedro Yee, laid out a strict training regimen lasting some 7- 10 hours a day while at the school. This was in place for the next several years.
In June 2015 Jose achieved the rank of Jo Gow (Black Sash), testing according to the standards of the Association under Grandmaster Frank Yee, Sifu Pedro Yee and the Senior Instructors of the Association. This is the first level of instructorship as is required by anyone wishing to open a branch. Jose as is required, to this day, continues his studies while working his way towards the higher Sifu Level rankings, attending Instructor advancement workshops by Grandmaster Frank Yee, as set forth by the Association.
Escuela Yee's Hung Ga International Kung Fu Association, El Salvador
[Escuela Shaolin Hung Ga Kung Fu]
9a Calle Poniente, #4620 Local C.
Colonia Escalon
San Salvador, El Salvador
(503) 7528-1865